A team that's diverse
At PageGroup we know that a diverse team brings different perspectives and insight to our business, generating creativity, problem-solving and sustainability that wouldn't otherwise be possible.
Our inclusive culture creates opportunities for everyone. We recognise and appreciate that every individual is different and we want to make sure our people are comfortable bringing their true selves to work. It includes a broad range of activities, networks and memberships. 
---
Women succeed at work 
[email protected] aims to improve our gender balance at all levels across our business. Activity and initiatives include: 
Introducing our global mentoring programme 
Launching our [email protected] global "Yammer" network 
Carrying out policy reviews 
Regularly sharing case studies/role model stories  
Annual global campaigns to celebrate 'International Women's Day' profiling our successful and inspiring women globally 
Regularly publish 'A Woman's Journey' profiles globally

2019 Statistics:
100% maternity returners
52% of promotions were female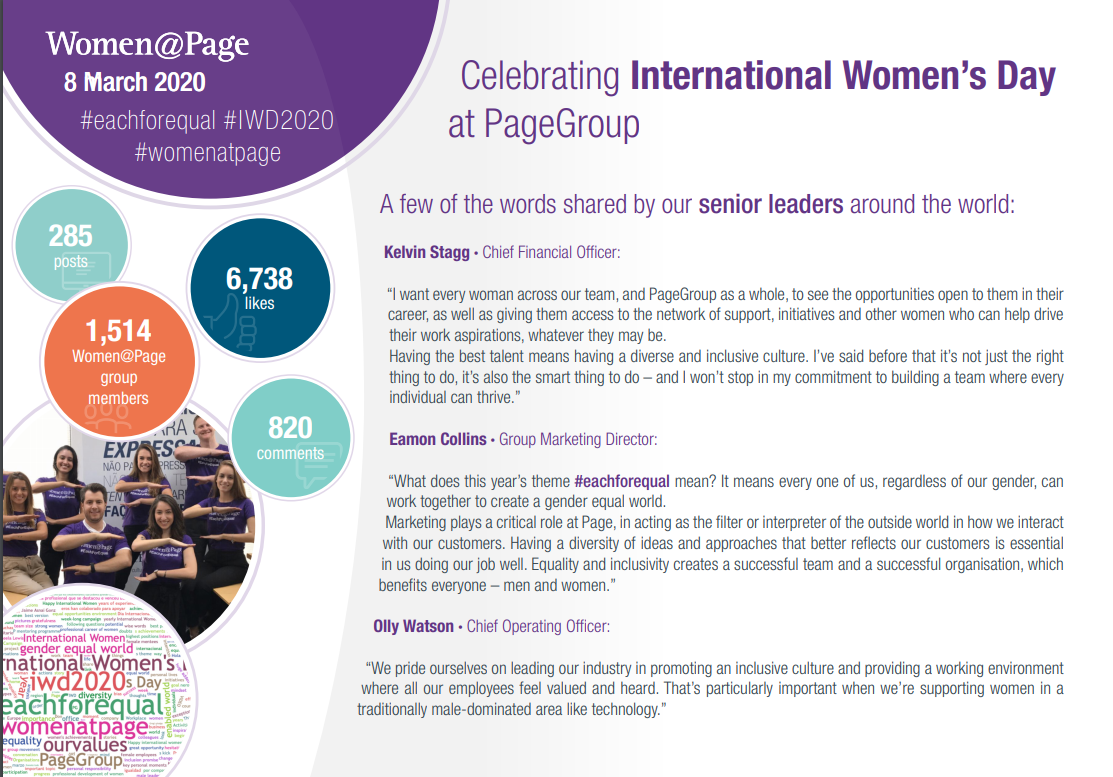 A workplace for people of all sexual and gender identities
[email protected] supports our LGBT+ employees, recognising that people perform better when they can be themselves. Through [email protected] we have: 
Become a Stonewall Global Diversity Champion 
Created case studies - allies and LGBT 
Run focus groups 
Reviewed and rewritten policies 
Created the [email protected] 'Yammer' network 
Appointed senior sponsors and champions 
Held annual global campaigns supporting LGBT Pride Month 
Became the first recruitment company to be a Stonewall Global Diversity Champion
Participated in Stonewall "Starting Out Guide"
Regularly profiled allies and LGBTQI+ employees

For nearly a decade it seemed that acceptance of people who are LGBTQI+ was at an all-time high. Marriage equality became law of the land. High-profile LGBTQI+ people helped to create visibility for a once ostracized community. Many corporations and businesses went above and beyond to provide protections for LGBTQI+ employees and customers.

But those big wins failed to transform workplace culture for people who are LGBTQI+ and current realities have reminded many that we haven't reached real inclusion and equality quite yet. For companies that would like to demonstrate their commitment to diversity & inclusion, having visible, vocal, and engaged allies is at the heart of the solution, but becoming an engaged ally isn't always simple.

In June of 2018, PageGroup partnered with PFLAG to provide employee training to:
Understand more about changing LGBTQI+ terminology
Learn about who allies are, and what the ally journey looks like
Find out the good news about LGBTQI+ acceptance … and the bad news we often miss
Talk about the barriers to support allies often encounter
Learn about straightforward, everyday actions that can help you overcome barriers, express support, and create change in the workplace

In 2020, PageGroup Earned Score of 100 in the HRC's 2020 Corporate Equality Index - the nation's premier benchmarking survey and report measuring corporate policies and practices related to LGBTQ workplace equality. PageGroup joins the ranks of more than 680 major US businesses that also received top marks. Our organization is proud to be one of the many companies helping to advance the cause of LGBT inclusion in workplaces across the United States and abroad.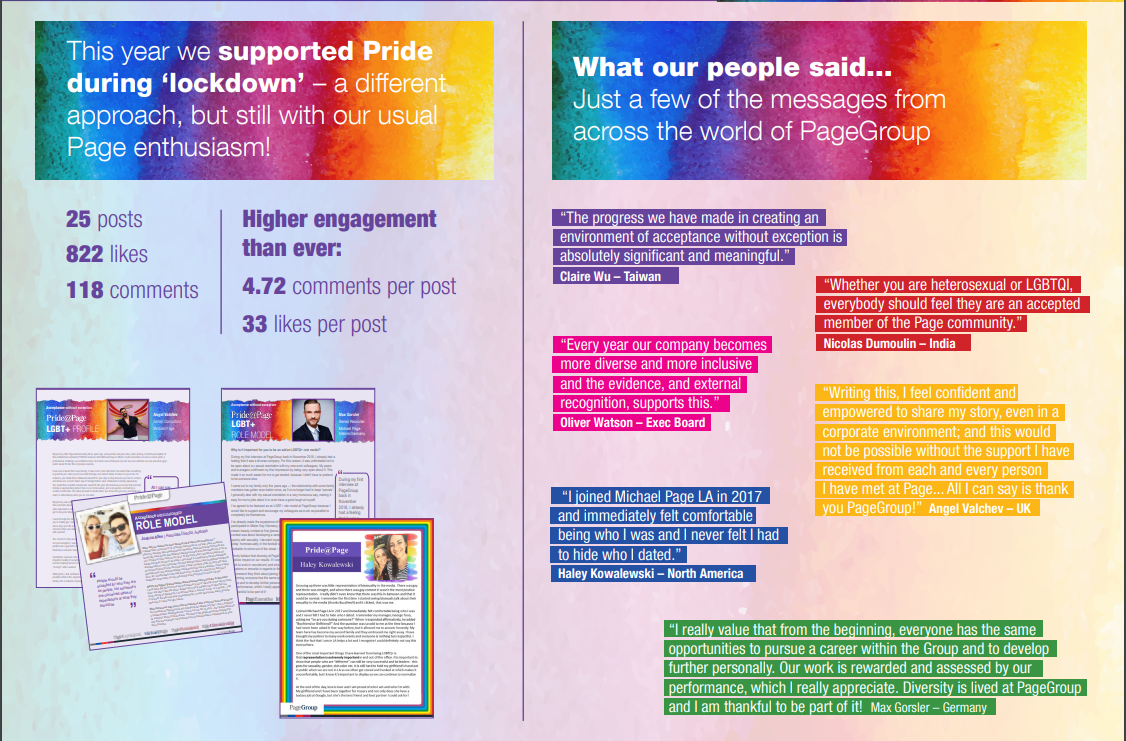 ---
Families and careers come first
[email protected] provides all parents & carers at PageGroup encouragement and support with resources, information and understanding through every step of their journey as parents. We have: 
Introduced a pre and post maternity coaching programme  
Introduced maternity guidelines  
Launched [email protected] 'Yammer' network, featuring dedicated seminars 
Improved our paternity policy 
Introduced specific questions in 'Have Your Say' surveys for parents & carers 
Appointed senior sponsors and champions 
Held office "Family Days" to bring your partner and kids to work 
Partnered with MyFamilyCare to offer a work and family space portal as well as individual coaching
Launched [email protected] intranet site
Launched [email protected] profile series to highlight returners' stories on the flexibility and support received through their leave and upon return to the business
100% maternity returners in 2019
---
Disability doesn't hold you back 
[email protected] demonstrates our commitment to disability and removing all barriers: physical, technological and attitudinal. It allows us to effectively communicate with all employees, clients and candidates so that necessary adjustments can be made for anyone with a disability and everyone has the opportunity to reach their potential. 
Regular sharing of stories from employees whose lives are affected by disability 
Created [email protected] Yammer network 
Appointed senior sponsors 
Regular hints and tips to improve general health and wellbeing 
Healthcare Experience Days – free events open to employees to promote well-being
Run annual global [email protected] campaigns for World Mental Health Day
Support and engage in Time To Talk Day, Mental Health Awareness Week
EAP and private healthcare support
---
Age is just a number
At PageGroup we recruit and retain people across all ages recognizing the benefits of having an age-diverse workforce.
---
A multicultural workforce thrives
Promoting the awareness and benefits of multicultural business teams.
Partnered with TimesUp to host the first in a series of webinars focused on how we can come together to build an inclusive, diverse and equitable workplace that works for everyone
Established local office D&I committees to assist in shaping our overall strategy and call to action in the workplace and our communities
We enjoy working within multicultural business teams and we strongly believe this supports our growth and success. 
If you would like to join a diverse and truly inclusive team, then apply for one of our positions now.