Determined to learn
Developing our people is a key pillar of our culture at PageGroup and is critical to the success of our business. That's why we take it seriously. PageGroup offers a clear and transparent career journey and provides the support and development needed for people to reach their potential. Through a market leading, blended learning approach our employees can learn through a variety of materials including video, infographics, interactive e-learning, gamification and, virtual and physical classroom sessions.
From the moment our people join us, whatever their level of experience, there's a clear development pathway all the way to the top, starting with our global on-boarding programme which brings new starters quickly up to speed on who we are, what we do, our values and how best to grow their business.
For our operations teams, there are consultant development programmes to guide and give people the mind-set, skill-set and recruitment tool-set they need to succeed. Career journeys and progress at PageGroup across operations, support and group services functions are supported by management development programmes reinforcing the vision, purpose and values which underpin our strong Page culture.
As people advance through their career, we encourage greater self-awareness through personal development plans including 360° Feedback.
Our annual talent review of senior leaders identifies high potential employees for accelerated development. As participants in the Global Director Academy (GDA), directors focus on creating and sustaining a culture of inclusion and are equipped with the development and networking tools they need as the future leaders of our organisation.
Our senior leaders are supported by external executive coaching programmes created to support our leadership and talent strategy and aligned to our 'PageGroup Potential' model. The coaching programmes allow for greater self-awareness, supporting personal development goals while working in a leadership position.
Whatever your skills, experience and ambition, you'll benefit from our industry-renowned training and development every step of the way.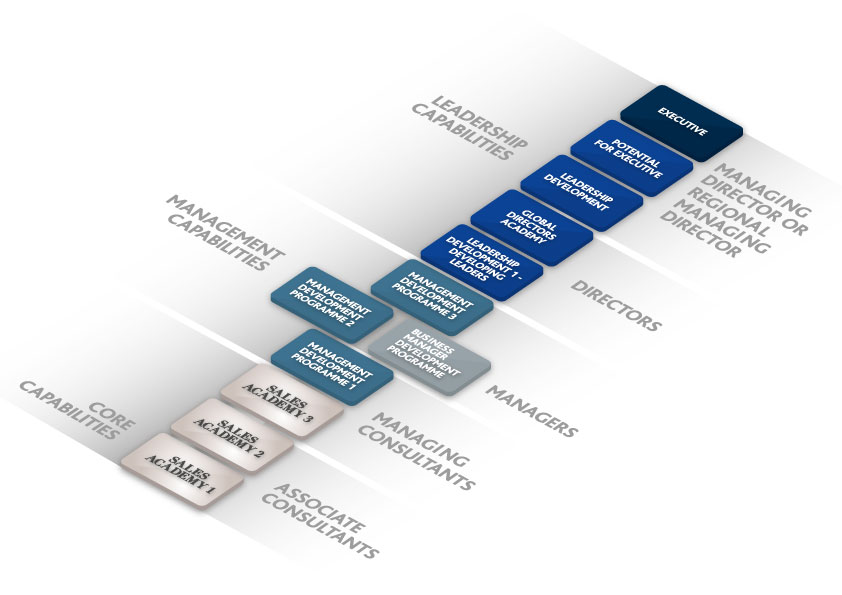 ---
Induction training
Core training
Upon joining PageGroup, you will follow a blended learning path that combines digital content with face-to-face courses delivered by operational managers and directors.  All our training is interactive, practical and helps you develop recruitment skills and commercial acumen. 
Lunch and Learns
On a semi-monthly basis, we hold workshops focused on developing recruitment and sales competencies. The topics covered are intended to strengthen and refine recruitment sales skills.
---
Sales Academy
Page Academy One
After your first month with PageGroup, you will attend Page Academy One where you'll master the art of selling and develop the right mindset to succeed.  In addition to on-the-desk mentoring received on a consistent basis, this course is designed to help you excel in the current sales climate and to build your own client base. 
Page Academy Two
Six months later, Sales Academy Two builds on the skills and techniques already learned, including creating opportunities with clients, developing powerful questioning skills, and delving deeper into the psychology of sales.  This toolkit helps build deep rapport with clients and candidates, generate business opportunities and maximise the sales pipeline.
Sales Academy Three
Page Academy Two follows the successful completion of Page Academy One. Page Academy Two allows you to hone the skills and techniques already learned such as developing powerful questioning skills, establishing client relationships, delving deeper into the psychology of sales, et al.  This curriculum helps build rapport with clients and candidates, generate business opportunities and maximize the sales pipeline
---
Manager training
Managing, leading and coaching others is key to the success of our people and our business.  Our modular management programme is designed to develop and fine-tune the key skills of managing yourself, leading others and leading the business:
Phase 1 – is composed  'pre-management' themed topics. The program provides insight into the manager's role and aids with the transition in preparation for the upcoming promotion. The range of topics includes understanding the scope of the manager role, how to build a business, driving performance, basic coaching skills and time management.
Phase 2 – is attended circa the first promotion and is devoted to driving business performance. Topics include sourcing and hiring potential recruitment consultants, how to conduct effective reviews and appraisals, setting a vision to engender high levels of engagement and understanding the importance of diversity and inclusion. 
Phase 3 – is designed specifically for managers with over two years' management experience. This course further develops and challenges existing skills and looks at different approaches.  Learn how to grow existing markets and develop new ones, along with handling people challenges such as identifying and understanding individual motivators and helping to overcome performance plateaus.
---
Leadership Development
Our training and development program doesn't stop when you reach director status.  At this level we focus on communication, building trust, motivation and effective relationships, as well as continuing to develop commercial and business skills. A 360 degree feedback process based on our leadership behaviors leads to a personal development plan and an increased awareness of natural strengths. Our external training partner and coaches ensure our directors continue to benefit from broad and current leadership thinking.