You are here
How to Craft the Perfect Project List
According to the
Bureau of Labor Statistics
, January 2018 saw the most US
construction job openings
in in that month than any other month in the past decade. With an estimated 250,000 openings, the market is ripe for you to make a move.
But if you're ready to step into another chapter or get the gig you've always wanted, you're going to need an excellent project list. This is the thing that could make all the difference in landing your next job, so you'll want to make sure it's perfect.
Here's how you can ensure that your project list is as strong as possible.
1. It's About The Details
It's key to concentrate on the unique selling points that you want to present to potential employers, but make sure you also include the basic, but important, details of each project you put on your project list.
State the dollar value, square footage, and length of each project, as well as the headcount you managed. Providing this kind of raw data gives a clearer picture of your experience and capabilities, and makes your accomplishments shine brighter.
2. Keep Descriptions Short, But Substantial
It may seem like a difficult balance to strike, but it's just a matter of finding the right words and details. Unlike resumes in other fields, you don't have to go too far into detail on each project. Unless you made a significant impact on a project – like completing it under budget or early – you don't need to get into the weeds.
Remember, it's not about how successful the project was, but about your successes within the project. After all, you're selling yourself, not the company you did a job for.
That being said, you don't have to limit yourself to a single page. Potential employers would rather see a wealth of knowledge and experience than limit anyone to one sheet of paper. As one of our expert recruiters said, "More is better."
3. Consider It An Addendum
Your project list is basically a supplement to your resume. It's a separate thing, yes. But keeping your resume and your project list in a single document minimizes the possibility of your information being lost. It's also simpler for your potential employer to get a greater understanding of who you are without juggling documents.
It makes sense for you to keep two documents. Keep a spreadsheet with all of your information, and constantly update it. When it does come time to submit to jobs, you'll have that document ready to go. Add it to the end of your traditional resume, and you're all set.
Another option is the project resume. Order your projects by the title you had when you completed them. Instead of describing your role, list each individual job and its details under the title. This shows growth and keeps you organized.
4. More Is More
It's worth emphasizing that you should put every single job you've had on your project list. Don't skip anything, since you never know exactly what a potential employer will be looking for. This is another reason to keep your descriptions short and sweet – if you overdo it on every single job, this could get out of hand quickly.
This will be especially handy when it comes time to apply to a multi-family project versus a retail project. You'll be able to tailor the relevant experience you have in each line of work into your combined document (resume + project list), missing no projects you've done in that field.
If possible, include images and links to your work to give anyone reading your project list a clear vision of what you've done. Providing actual evidence of your expertise is always better than leaving it up to the imagination. So take this opportunity to really impress someone with your skills.
5. Make it Presentable
Like any document you present during a job search, you want to keep your project list clean and appealing.
No matter how you choose to organize your project list, stick to the same rules throughout the document. Create columns, or organized bullet points so that information is always presented in the same order for each job. Use labels whenever possible. And if exporting a spreadsheet, make sure everything looks the way you intend it to before sending it to a potential employer.
For inspiration, check out some of our examples below.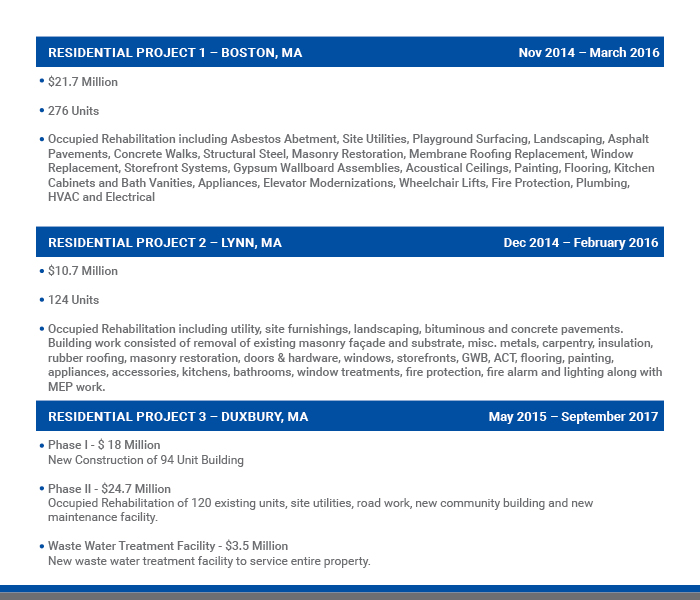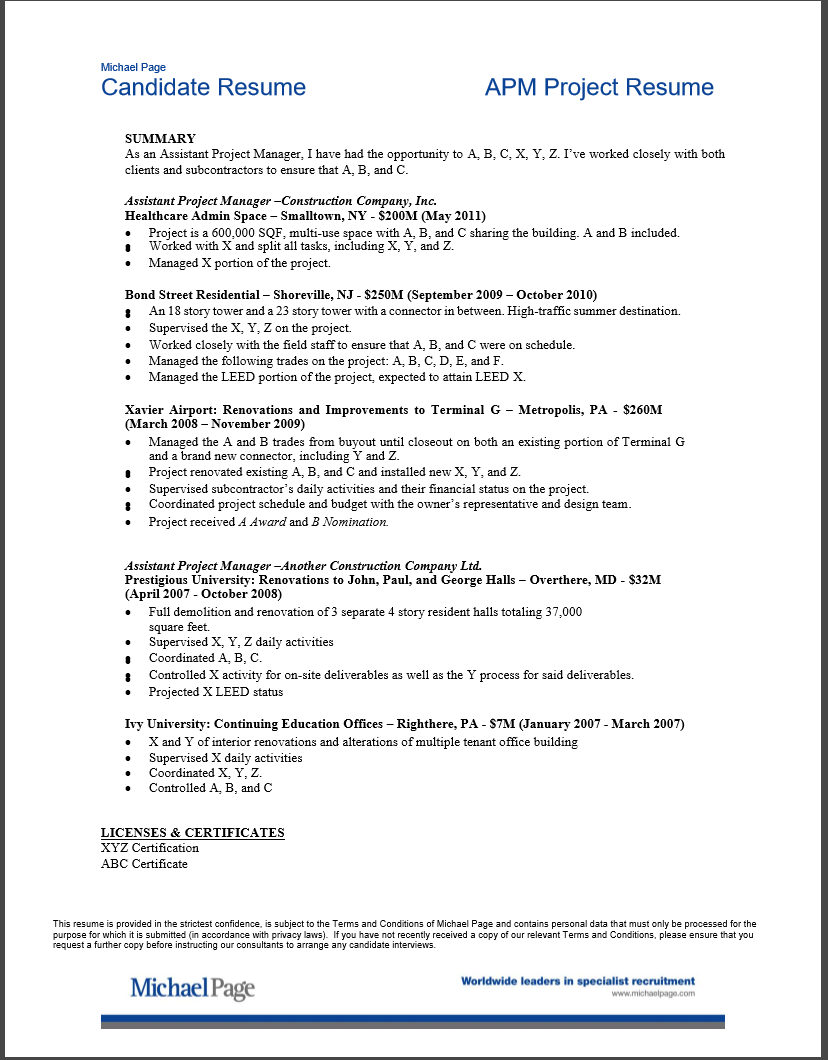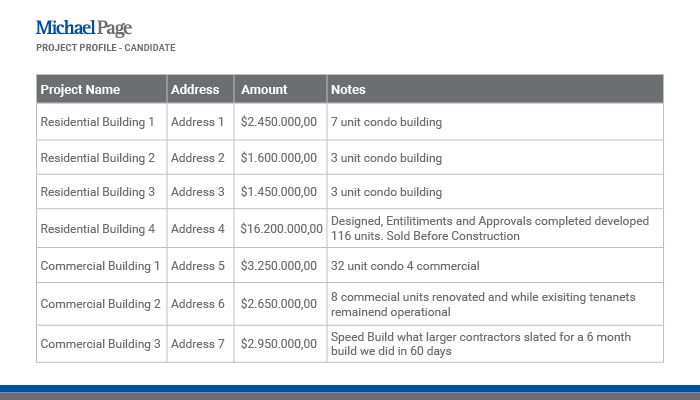 Bear all this in mind, and you'll make yourself an even more viable candidate, book more jobs, and always have new content to add to your project list.
For property and construction career advice, or for more information on how we can help you to grow your team, please contact your local Michael Page Property & Construction team.